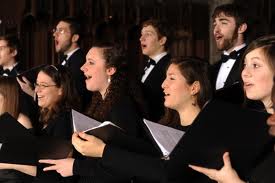 Auditions are not required, though some basic musical knowledge is required.
Here's the scoop for this semester
Registration and first rehearsal- Monday, January 22nd, 2017 from 6:30 – 9:15pm in Room 115 of Altgeld Hall at SIU
This semester's program includes Carl Orff's Carmina Burana and Make Our Garden Grow, from Leonard Bernstein's Candide.
The concert will be on Monday April 30, with just one dress rehearsal on

Sunday the 29th

from

2:00-10:00

(dinner provided between runs). We're doing this so the Kaskaskia singers don't have to come to Carbondale so many times.
Check the Performances tab above for a post containing more information on the concert.
The registration fee is $30, plus the cost of the music for Make Our Garden Grow.  Singers are asked to provide their own Carmina Burana score.  This is because because quite a few people already own one, and those who don't can find a better price online than the sheet music purchasing companies the school uses.  T

he Complete Vocal Score,

with piano reduction, is sold by Amazon at http://a.co/3oQmKpF

.  The Choral Score without piano reduction, is at

http://a.co/heQ1C6.